At Wug Robot, we believe in engineering. We believe engineering is fundamental to a society, we believe engineering can make people live better, we also believe engineering is fun!
Introducing ...
The Wug Robot PiON
A multifunctional UPS for Raspberry Pi and in fact, many other ARM devices like Orange Pi!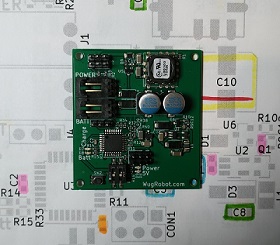 Key Features:
Provides uninterrupted power supply to Raspberry Pi and other Pi. The Pi is always ON!
Serve as a switch to soft turn on and shut down Raspberry Pi. Safe and convenient!
Battery can support Pi for hours and be recharged. No work interruption!
Automatically soft shutdown Raspberry Pi when battery pack is low. Never corruption!
Support both AAA and AA NiMH battery. Flexible and safe to fly!